Enna cycle
A life-changing solution for menstrual period

Organic menstrual period cup
Why the menstrual cup enna cycle?
Recurrent candidiasis
Recurrent cystitis
Bacterial vaginosis *
It does not alter the vaginal pH and does not interfere with the vaginal flora, so it does not produce any imbalance in the natural protective system of the vagina.
It is made of inert medical-grade silicone, which prevents germs from building up in it. If you are prone to infections in your intimate zone, the menstrual period cup is the best alternative to keep bacteria at bay and prevent all problems stemming from other intimate hygiene products made with toxic materials and which leave behind residue inside the vagina.
Irritative or allergic vulvar dermatitis

Vulvovaginitis

Dryness**
The enna cycle cup is made of a non-porous, non-absorbent and non-fibrous material which doesn't scratch or dry out the vaginal walls. It also doesn't leave behind residue of other fibres. This menstrual period cup is also hypoallergenic and bacteria-resistant, meaning women who are allergic to latex can use the cup while the risk of infection is also reduced.
Protected for more hours***
No loss of menstrual flow during use
The enna cycle menstrual cup can be used up to 12 hours before needing emptied (it can hold up to 3 times more than tampons). The menstrual period cup can be used overnight too, giving women more independence.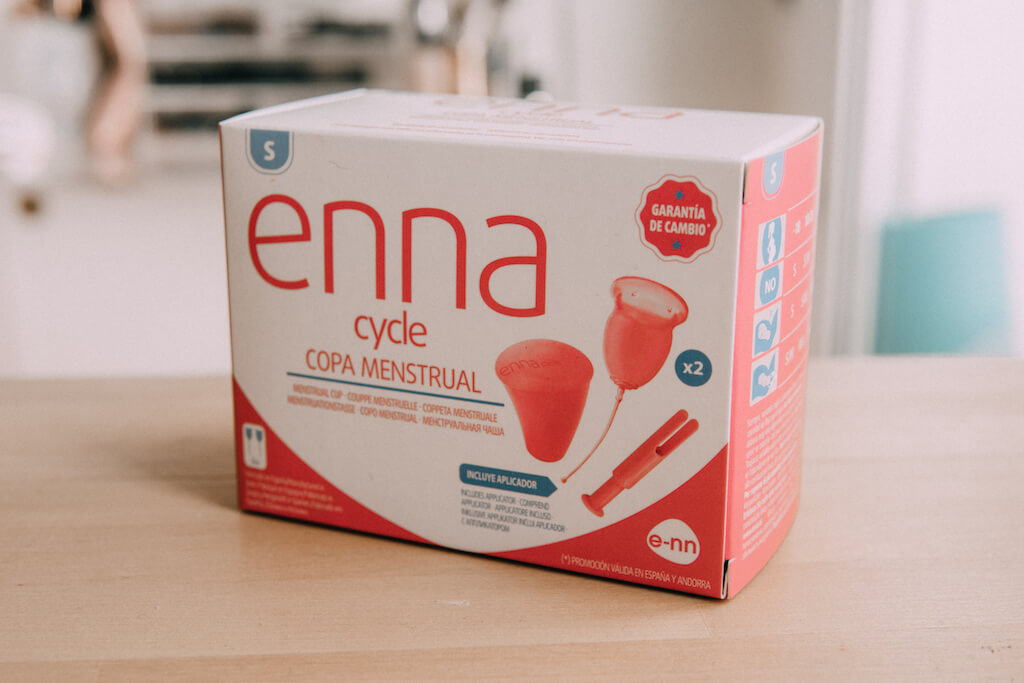 (*) 1. Menstrual cups and sanitary pads to reduce school attrition, and sexually transmitted and reproductive tract infections: a cluster randomized controlled feasibility study in rural Western Kenya. Phillips-Howard PA, Nyothach E, Ter Kuile FO, Omoto J, Wang D, Zeh C, Onyango C, Mason L, Alexander KT, Odhiambo FO, Eleveld A, Mohammed A, van Eijk AM, Edwards RT, Vulule J, Faragher B, Laserson KF. BMJ Open. 2016 Nov 23;6(11):e013229 Comparativa con compresas versus copa menstrual en un universo de 751 niñas de entre 14 y 16 años, donde se observan menos infecciones con el uso de la copa y menos incidencia de vaginosis.
(**) 2. Preclinical, clinical, and over-the-counter postmarketing experience with a new vaginal cup: menstrual collection J Womens Health (Larchmt). 2011 Feb;20(2):303-11. doi: 10.1089/jwh.2009.1929. Epub 2011 Jan 1. North BB1, Oldham MJ Comparativa con tampones versus copa con una universo de 406 mujeres durante 3 ciclos menstruales donde se constató que no existe citotoxicidad y la preferencia por la copa se debió a mayor comodidad, no sequedad durante su uso y menos olor.
(***) 3. FLOW (finding lasting options for women): multicentre randomized controlled trial comparing tampons with menstrual cups. Howard C, Rose CL, Trouton K, Stamm H, Marentette D, Kirkpatrick N, Karalic S, Fernandez R, Paget J. Can Fam Physician. 2011 Jun;57(6):e208-15 Comparativa con tampones versus copa en grupos de 47 mujeres donde se mostró mayor satisfacción con el uso de la copa y donde el 91% de las mujeres del grupo que probó la copa continuaron con ella después del estudio.